"NEW" Wacky Beach Sports and Challenges
Companies that have tried our Value Based Team Building Games have had an absolute blast and have returned looking for a similar format, but with some fresh new activities, so we developed the Wacky Beach Sports option which suits a mixed range of age and ability, keeping all actively engaged, with an element of competition.
Jonginenge provides a service which fosters positive working relationships through carefully planned group challenges requiring team work, problem solving and communication.
What are the benefits?
Relationships are formed as team members are required to co-operate in order to achieve success.
Barriers are overcome as colleagues interact within a relaxed atmosphere and get to appreciate each others hidden talents.
Team members analyse reasons for success and failure, and therefore develop positive group dynamics and an understanding of the requirements of effective team work.
Individuals are challenged to step out of their comfort zone and discover what they are capable of.
Collective problem solving develops communication skills and creativity.
A shared positive experience is enjoyed by all.
HOW DOES IT ALL WORK?
Participants work in small groups in order to complete a series of initiative challenges (10 or so per group).
Our facilitators facilitate planning and reflection on each challenge, as well as timing each activity.
Teams also compete against one another, adding an element of competition.
At the end we will announce the winners of each challenge and the overall winners.
CHOOSING ACTIVITIES:
HALF DAY (3 HOURS) = 8/9 ACTIVITIES
FULL DAY (2 X 3 HOURS) = 16 ACTIVITIES
Please find below a complete list of our New Wacky Beach Sports & Games.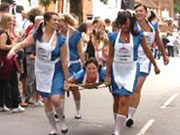 NEW PATIENT & STRETCHER RACE
Each Team is given a trauma board and must race carrying a patient a set distance. This event can be done as a relay, or can include obstacles which the stretcher and patient must safely negotiate in order to continue with the race.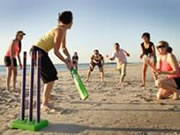 NEW LIMITED OVERS BEACH CRICKET
This activity will involve teams in a 30 ball game of cricket, with each team bowling and facing a limited number of balls. Each team's scores will be determined by their number of runs less their wickets that have fallen.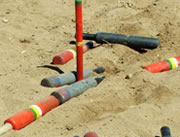 NEW JUKSKEI
This is a traditional Afrikaans throwing game, which involves participants throwing a "skei" (bottle shaped wooden object) at a "pen" (peg in the ground). The aim of the game is to knock the "pen" out of the ground and score 3 points, or land more "skeis" closer than the opposition for 1 point each.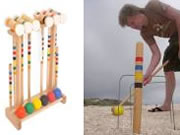 NEW CROQUET
This is a much simpler and quicker version of the game, but can be just as exciting. The object is to score hoops in a set order. The moment any of the players make a hoop, that hoop is "abandoned" and all players rush on to the next hoop. The first team to score seven hoops wins the game, which usually takes about 15 minutes.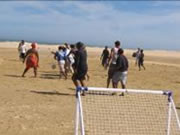 MINI BEACH SOCCER
The world's most popular team sport is always a hit. Mini soccer goals and no goalies will free up the game for a nostalgic reliving of the excitement of the 2010 world cup held in South Africa. Points will be awarded for a win, draw and goal difference.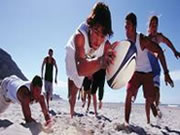 TOUCH RUGBY
Teams will take part in one of SA's most popular team sports. Points will be awarded for a win or a draw, as well as points difference for number of tries for and against each team.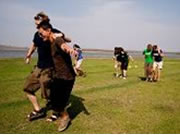 3 LEGGED RELAY RACE
This event will take the form of a relay race with team members forming pairs and standing adjacent to one another with their neighbouring legs tied together. They must then race in this fashion, hence the name "Three – legged – Race". Can have hilarious results.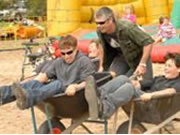 NEW WHEEL BARROW RACE
This event will require teams to transport their entire team across a demarcated area using a wheel barrow. Only 1 team member may push the wheel barrow or sit inside it at any time. Points will be awarded according to time taken. This event can be done blind folded.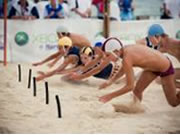 FLAGS
This is a traditional lifesaving game which involves participants in a series of races. Each Race starts with competitors laying down in the sand facing away from the "flags" (25cm length of garden hose). When the whistle sounds, competitors must jump, turn and sprint to get a flag. Each race has one fewer "flags" than competitors.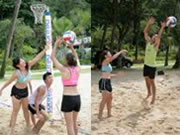 NEW BEACH NETBALL
Teams will compete in a game of netball with goal posts set up on the beach. The ball may not touch the ground and players may not run with the ball, as these transgressions will result in a change of possession. Points will be awarded for a win, draw and goal difference.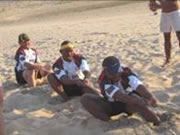 TUG – OF – WAR
Believe it or not, this is an international sport, with the 2010 World Championships having taken place in South Africa. Teams will compete against one another on a knockout basis, with points being awarded for team position.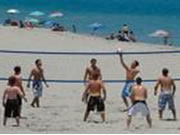 BEACH VOLLEY BALL (team work/areas of responsibility)
Teams will compete in a game of beach volley ball. 2 four minute semis, followed by a four minute final between the winning teams. Points can only be won on own serve.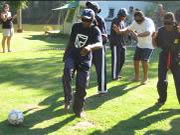 BLIND FOLDED SOCCER (communication)
A hilarious communication game involving the world's most popular sport.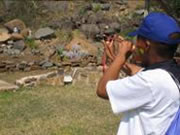 KATTY TARGET SHOOTING
A truly African target shooting experience, using hand made catapults. Teams compete with each team member given a set number of shots to hit the target.